Grizzly Feeders Benefits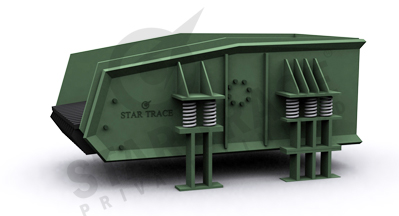 Extend crusher life by reducing wear.
Increase crusher efficiency.
Reduce crusher power consumption.
Rugged single mass technology.
Low maintenance due to:
No exciter springs required.
No natural frequency tuning required.
Easily replaceable grid bars.
Stepped deck grids enhance screening efficiency.
Driven by world class electromechanical drives.
Designed to meet your exact requirements.
Wide range of achievable capacities.
Key Benefits:
Robust construction
Adequate springs are selected to withstand heavy shock loads due to feed material.
Wear plates are provided on all exposed surfaces for long life.
Heavy duty exciters to induce large stroke and high force required to deliver run of quarry from dump hopper.
Simple eccentric drive system.
Easy maintenance.
Easy to adjust stroke length by adding or removing the weights
Easy to adjust stroke angle.
grizzly feeders
grizzly feeders manufacturers
grizzly feeders suppliers
how does a grizzly feeders work
grizzly feeders sale
grizzly feeders china
grizzly feeders manufacturers india
grizzly feeders capacity
grizzly feeders design
grizzly feeders wiki
grizzly feeders globally
about grizzly feeders
vibrating grizzly feeders
vibrating grizzly feeders manufacturers
vibrating grizzly feeders suppliers
how does a vibrating grizzly feeders work
vibrating grizzly feeders sale
vibrating grizzly feeders china
vibrating grizzly feeders manufacturers india
vibrating grizzly feeders capacity
vibrating grizzly feeders design
vibrating grizzly feeders wiki
vibrating grizzly feeders globally
about vibrating grizzly feeders