Vibrating GRIZZLY FEEDERs Manufacturers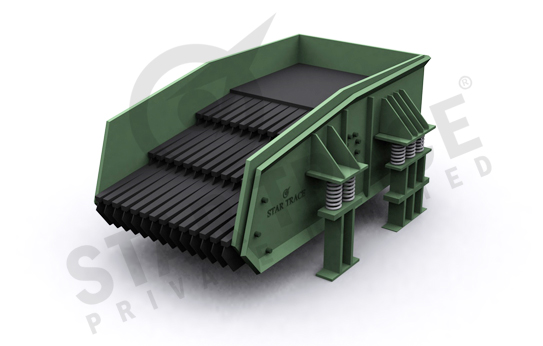 Vibrating Grizzly Feeders Sale
STAR TRACE Grizzly Feeders have greater versatility and adaptability for the increase in production/products. The rugged design and construction smooth vibrating mechanism helps in reliable operation, long durability and helps to lower maintenance costs. It is suitable for continuous, uniform feeding of raw material into the crusher and equipment while screening plants of Mineral & Mining Industry, Construction materials, Silicate, Power sector, Steel sector, Cement Industry, Chemical Industry and Foundries etc.
BOOSTING THROUGHPUT OF PRIMARY CRUSHERS:
A robustly constructed range of vibratory machines extending from units 0.5m widex2m long up to units 1.5mx4.5m.
The grizzly feeders are intended primarily for use ahead of primary crushers are designed to handle large run-of-quarry stone, take the impact of dumped loads and smooth out the flow to the crusher.
All models of grizzly vibro feeders have a flat reinforced impact area followed by a sloping grizzly bar section.
The longer grizzly feeder are fitted with two stepped, grizzly bar sets. Replaceable wear sections of mild steel, manganese steel or rubber are fitted depending on the duty specified.
During material dewatering, water is filtered through the mesh as a result of vibration while the material is conveyed toward the point of discharge. The filtered water carries solid particles whose size is slightly smaller than the mesh openings, which must be recovered by means of hydrocycloning and incorporated to final product in the discharge area. The level of moisture that can be obtained in the end product is between 10% and 15%, depending on its nature, particle size distribution and water content in the feed.
VIBRATING FEEDERS WORKING PRINCIPLE:
Vibrating feeders consists of vibrating frame, spring, vibrator, motor vibrating device and motor. The vibrator is made of two fixed eccentric shafts whose gears are jogged. When installation, the two gears must be jogged according to the sign. Through drive of the motor, the two eccentric shafts start rotating to produce a linear huge power which forces the feeder to vibrate.
VIBRATORY MOTOR:
The Grizzly feeder is suitable to feed primary jaw crushers, selecting the large sizes which require primary crushing, the smaller sizes and any fines which must be eventually rejected.
The Grizzly vibro feeder consists of a very large vibrating body made of thick plate with inside lining of anti-abrasive plate. The Grizzly vibro feeder is driven by two or four vibrating motors. The vibro feeder(which may either be placed on a steel or concrete base) rests on spring.
ELECTRICAL CONTROL EQUIPMENT:
Grizzly Feeders may be supplied complete with Variable Feed Rate Controllers. They incorporate the very latest frequency inverter technology for applications that require frequent adjustment of the feed rate.
For other applications twin vibrator phase reversal braking starters which enable the unit to stop within seconds may be suitable.
The number of stop/ starts that may be made per hour is limited depending upon conditions.
Consult us about your Electrical Control Equipment requirements.
INDUSTRIES USING VIBRATING GRIZZLY FEEDERS:
Power.
Mining.
Aggregates.
Recycling.
Concrete.
Quarries.
Grizzly Feeders Features
The following are the features of Grizzly Feeders:
Custom designed & built.
Designed for maximum efficiency & output.
Heavy duty unbalanced vibro motors.
Adjustable amplitude of vibration.
Heavy duty, rugged construction.
Stress Relieved.
Adjustable & replaceable grizzly bars.
Easy to maintain & operate.
Abrasion resistant lined bed and side plates.
Abrasion resistant grizzly bars.
VIBRATING GRIZZLY FEEDERS BENEFITS
Extend crusher life by reducing wear.
Increase crusher efficiency.
Reduce crusher power consumption.
Rugged single mass technology.
Low maintenance due to:
No exciter springs required.
No natural frequency tuning required.
Easily replaceable grid bars.
Stepped deck grids enhance screening efficiency.
Driven by world class electromechanical drives.
Designed to meet your exact requirements.
Wide range of achievable capacities.
KEY BENEFITS:
Robust construction.
Adequate springs are selected to withstand heavy shock loads due to feed material.
Wear plates are provided on all exposed surfaces for long life.
Heavy duty exciters to induce large stroke and high force required to deliver run of quarry from dump hopper.
Simple eccentric drive system.
Easy maintenance.
Easy to adjust stroke length by adding or removing the weights
Easy to adjust stroke angle.
Grizzly Feeders Manufacturers
Star Trace Pvt. Ltd. is a prominent manufacturers and suppliers of magnet and vibratory equipments used in various industrial applications.
We at Star Trace Pvt. Ltd. have made an indelible mark for ourselves in the engineering industry as a respectable manufacturer and exporter of magnetic and vibratory equipment. In addition to our manufacturing abilities, we have also come to be known for our ability to provide turnkey solutions to our customers.


grizzly feeders
grizzly feeders manufacturers
grizzly feeders suppliers
how does a grizzly feeders work
grizzly feeders sale
grizzly feeders china
grizzly feeders manufacturers india
grizzly feeders capacity
grizzly feeders design
grizzly feeders wiki
grizzly feeders globally
about grizzly feeders
vibrating grizzly feeders
vibrating grizzly feeders manufacturers
vibrating grizzly feeders suppliers
how does a vibrating grizzly feeders work
vibrating grizzly feeders sale
vibrating grizzly feeders china
vibrating grizzly feeders manufacturers india
vibrating grizzly feeders capacity
vibrating grizzly feeders design
vibrating grizzly feeders wiki
vibrating grizzly feeders globally
about vibrating grizzly feeders